When you listen to the sound of Isildo Novela playing the electric bass you not only hear the warm and solid groove, captivating melodic phrases and surprising rhythmic effects - you also feel the long journey, talent and ambition that brought a self-taught musician originally born in Mozambique in Southern Africa to settle down in North Europe in Copenhagen - Denmark.
Isildo Novela's musical journey began at a very early age. He grew up in Matola Fomento, a suburb of Maputo, in a family with 8 kids from the same mother and father. His father played organ, piano and acoustic guitar in the local church where his mother was active blending traditional African folk music into catholic services.  

At the age of eight this little boy was sitting home playing a guitar made of empty cans and fish lines without realizing yet how much that guitar would influence his future and musical career. During his childhood a civil war was haunting Mozambique. Life was difficult, and a little boy senses the insecure and dangerous threat. When he went to bed at night he would fall asleep listening to the sound of traditional music from timbilas and percussions,part of tribalceremonies in the distance. Music became a healing power for the little boy,helping him to get away from the most difficult times in his childhood. 
Isildo spent days playing for hours and hours learning to master by ear all kinds of music that he would listen to in the local radio. He was twelveyears old when a group of Portuguese musicians came to perform in the local church. For the first time he heard the sound of live electric bass and from that moment it became his main instrument.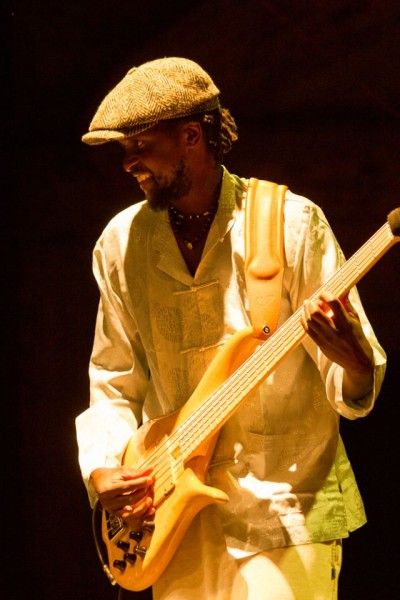 At the age of sixteen Isildo got an electric fretless bass, offered to him as a present by his older brother Neco Novellas,who had been studying classical music in Portugal. Surprisingly Isildo learned to play the difficult instrument quickly and soon he was out playing gigs as one of the few fretless bass players in Mozambique. He was attracted to heavy metal and in that style of music he could express himself freely with improvisation and energy. In the same period he established his own afro/fusion band performing original songs.
Isildo's strong sense of discipline and the will to pursue his dreams took him to South Africa in 2001 searching for new musical challenge. Soon he got the privilege to work and perform alongside musicians who had inspired him such as Gito Baloi,(Originally known for his collaborations and as a member of the trio Tananas), Fana Zulu, Pops Mohamed, Hugh Masekela among others. 
Together with his brother Nelson Novela, who played electric guitar, he formed The Novellas Band. They performed in clubs and festivals such as the jazz clubs Bass Line and Kippis, Festival Joy of Jazz, Jazzfestival Moretele, Rockfestival Oppikoppi and many more. The two brothers were soon recognized as multi- talented instrumentalists and respected for their strong musicality and energy. They were invited to participate in several television shows as backing band for various well known South African artists. 
In2004 Isildo got the chance to study electric jazz bass at The Rotterdam Conservatory of Music (Codarts) and together with his brother Nelson Novela he moved to The Netherlands (Holland), where his older brother Neco already was living. Now the self-taught musician learned to understand music theory and technique. Meanwhile he was touring all over Europe as the bass player of the family band Neco Novellas with whom he recorded and co-produced 3 albums: "Mita famba" ("Would You Go" in 2007) "Ku Khata" ("New Dawn" in 2008) and "Munthu" ("Somebody" in 2011). This band was unique because it consists of the three brothers and two sisters and they attracted attention after their album "Khu Kata" ("New Dawn") hit the 4th place in the World Music Charts in 2008, and they became well known in the world music and jazz scene. 
With the band Neco Novellas Isildo performed in many well-known venues and festivals like North Sea Jazz (NL), Mundial Festival (NL), Dizzy Jazz Club (NL), De Doelen (NL), Uncienne Belgique (BL), Ollinkan Festival (MX), Kosice Jazz Fest (Slovakia), Le Trianon (FR) Afrika Festival (D) as well as television and radio shows. At the same time hecontinued working with his own original project which in 2008  changed its name to Novellas Progressive. The band was active and had a dedicated crowd in Luxembourg, Belgium and Holland. They were also doing acoustic performances with the traditional instrument timbila as well as workshops about African music and rhythms.
In 2010 Isildo Novela moved to Denmark where he is now based, recording and performing with various national and international artists with different genres of music: afro, jazz, funk, reggae, pop, rock. He is known for his specific sound and his unique style of handling the instrument. To mention a few artists he works with: Neco Novellas, Rikke Lie, Ivan Mazuze, Deodato Siquir, Isabel Novella,Novellas Progressive, Dawda Jobarteh. Lately he began working with the Danish international rock band Mew on their next album.
 Stay tuned for the latest news.